Are you taking your iPhone abroad?

Take care to avoid big data roaming bills
You may have read about the stories of massive mobile data roaming charges – where iPhone users have accrued thousands of pounds on their mobile bills just by browsing the internet or downloading a few files or email attachments.

Data Roaming describes the use of your mobile phone on another network abroad for a short period, while still being billed by your existing provider.
What uses data on my iPhone?
Any apps that use the Internet connection use roaming data e.g.
Safari
YouTube
Maps (Google or Apple)
Email
iTunes
Social Networking Apps e.g. Facebook/Twitter
Just to be clear the following actions do not use roaming data:
Filming a video
Taking a Photo
Listening to the Music (that is downloaded and not streaming)
Playing stand alone games (Soduku, Labyrinth)
Here are some tips on how to avoid big charges.
Tip 1: Turn Off Data Roaming
Go to Settings then select General / Network
Select the option
Then Tap Mobile Data Options Roaming...
Turn Data Roaming Off (should look like this):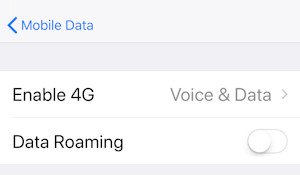 What this does is to prevent your phone from connecting to other data providers when you are out of range from your domestic provider e.g. when you are abroad.
However even when you are home you may have a limited amount of data your provider offers you each month. Depending on your package you may be charged for extra data when you reach your monthly limit.
In this case you can save data by switching off ALL cellular Data like this:
Swipe from the bottom of your iPhone screen (from the top right on an iPhoneX) and you will see this green icon...

If the Mobile Data icon is green it is switch on and using mobile data.
Tap the green icon so it looks like this:

Now all mobile data is switched off.
Note - this switches off Data Roaming too
In fact if you are abroad we suggest this option as a 'belt and braces' way on ensuring you get no big bills.
Tip 2: Use Wi-Fi
You can connect your iPhone using a local Wi-Fi connection. Many Hotels and Cafes offer free Wi-Fi connection for laptop users. You can use this same connection for your iPhone. Doing this means you are not billed for roaming data. The only charge might be if a particular Wi-Fi hotspot charges for access, and you should be informed of that before you can start using the connection.
Go to Settings then select Wi-Fi
Make sure Wi-Fi is switched ON
Scan for the Network (you may need to ask the premises for the Wi-Fi name and the password)
Tip 3: Using your email
Most emails are actually use a very small amount of data. If somebody emails you a large attachment your iPhone does not actually download it and will only do so when you select the attachment. However, the text in the email is downloaded, so if you receive hundreds of messages this may indeed start to cost more.
Tip 4: Get a data bundle
You may be able to sign up to a flat-rate or capped data package or 'Bolt On', where you pay a fixed amount each month for using the mobile internet. Contact your network operator to find out what they offer. There are also many companies offering a 'travel sim' order it a few weeks before you leave. Or you can try purchasing a pay as you go sim when you get there.