| | |
| --- | --- |
| Spelling and Thesaurus Shortcut key in Microsoft Word | |
You may already know that if you press the F7 key at the top of your keyboard it will start up the Spellchecker
However have you tried this?
Double click on a Word (to select it - like the word offer below)
Whilst holding down the Shift Key press the F7 key
You should now see a list of suggest synonyms (and antonyms) appear in the right panel.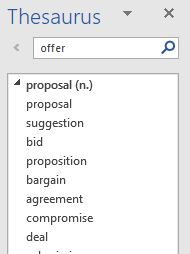 So for example if you select the word separate the right panel will show something like this...
Click directly on any of the suggested words in the list to suggest more antonyms and synonyms for that new word.
Or float over the word and click on the right pull-down to Insert (to replace word originally selected) or Copy (ready to paste the new word somewhere else)